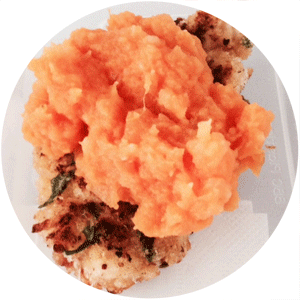 | | |
| --- | --- |
| | |
Combine panko breadcrumbs, parmesan, parsley, chives and pepper to taste in a shallow bowl.

Crack eggs into a separate bowl, add milk and whisk until combined.

Place flour into a shallow bowl.

Trim any fat or sinew from tenderloins.

Place bowls in a line, with flour, then egg, then breadcrumbs.

Take one chicken tenderloin and dip it into the flour, turn to coat well, then shake away excess.

Then dip floured chicken in egg, shake away excess then roll in bread crumb mixture, ensuring an even coat.

Place on a plate and repeat with remaining chicken.

Heat half the oil and butter in a frying pan over medium heat, add half the chicken and cook for 3-4 minutes, then turn over and cook a further 3 minutes or until golden and cooked through.

Drain on absorbent paper.

Repeat with remaining oil, butter and chicken.

Serve parmesan chicken strips on a bed of sweet potato mash. See our other recipes.
Equipment
Bowls x 3 (one for egg, flour and crumbs)
Fork
Knife
Frying pan
Absorbent paper
Tongs
Optional Extras
1. Use day old breadcrumbs or dried breadcrumbs as a substitute for panko breadcrumbs if unavailable.
2. Panko breadcrumbs are available in the Japanese aisle in supermarkets and Asian grocery stores.
3. Use basil or mint instead of parsley and chives.
4. Serve with steamed green vegetables such as asparagus, beans or snow peas or a fresh green salad.
Adult Assistance
Using the frying pan and cooking with the hot oil