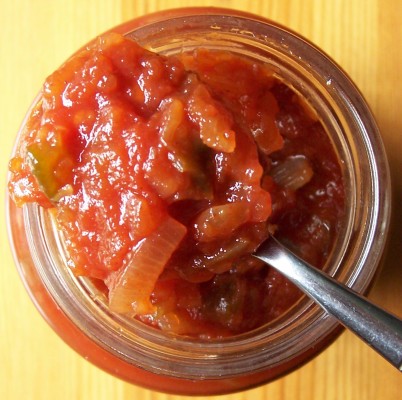 | | |
| --- | --- |
| | |
In a saucepan, heat the olive oil.

Finely dice the onions, capsicum and garlic and place in the hot pan and fry off for 1 minute

Dice the tomatoes and add to the pan.

Add the vinegar, brown sugar, lemon, salt and pepper to the pan and stir.

Place lid on pot and simmer over a low heat for 15 minutes, allowing to reduce some liquid down (thicken)

Serve warm with your favourite snack like the Get Kids Cooking Vegie Saugage rolls or place the relish into jars and refridgerate.
Equipment
Saucepan with lid
Chopping board
Knife
Measuring spoons
Optional Extras
You can add some fresh chopped chillies if you like it a little spicy!
Try blitzing the relish with a stick mixer or food processor to resemble "tomato sauce"
The kids will love it, and it is much lower in sodium than store bought, bottled sauces.
Adult Assistance
Handling the hot saucepan