Beautiful Thai Fish Cakes to be enjoyed with a cucumber dipping sauce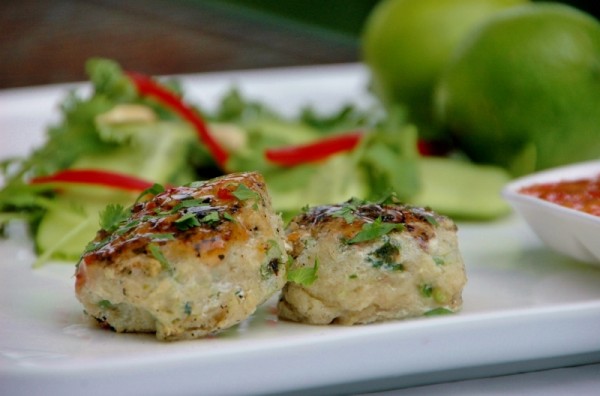 | | |
| --- | --- |
| | |
Cut your fish into small pieces (1cm cubes) and place in blender, give it a pulse for 45 seconds

Add egg, cumin and fish sauce to blender, pulse again for 45 seconds

Wash the coriander well – especially the dirt between stems

Break off the top half off the coriander and save for garnishing later on

Cut & throw out the very bottom roots of the coriander

Finely chop the stems and add to chopped fish in blender

Peel skin off your garlic and roughly chop, then add to the blender

Peel the skin off your ginger, grate or chop and add to your blender

Pulse for 30 seconds at a time until your mixture is all combined

Tip fish mixture into a bowl

Finely chop beans and spring onions into rounds and mix into fish

Wet your hands to shape all the fish mixture into balls on a plate

Place your oil in a frying pan and heat it up over a high heat, then drop to medium heat

Wet your hands and flatten each ball before placing in the fry pan

Cook for 2 minutes, turn over using a spatula and cook for another 2 minutes or until golden brown and cooked.
Combine ¼ cup sugar, ¼ cup lime juice and 1tbs fish sauce in a small saucepan. Cook on medium heat, stir for 5 minutes or until sugar dissolves. Remove from heat and add ½ cucumber (deseeded and finely chopped) and stir to combine

Serve with dipping sauces, lime wedges and a side salad
Equipment
Blender
Chopping Board
Small knife
Measuring spoons
Bowl
Optional Extras
These can be served with your favourite dipping sauces – sweet chilli sauce, Vietnamese spring roll sauce (in a bottle from supermarkets)
Serve with your favourite " slaw", any Asian salad, mashed potatoes, sesame seeds & long beans, edamame beans, mango salad, ginger carrots, flat bread, broccoli salad, steamed rice or a green salad.
Adult Assistance
Using the blender or food processor
Frying the fish cakes
Grating the ginger