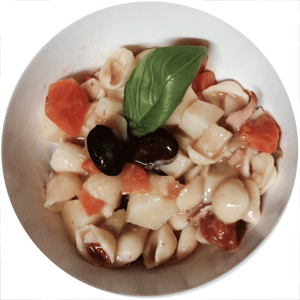 | | |
| --- | --- |
| | |
Dice the bacon into small pieces.

Peel and chop the carrots and potato into 1cm pieces.

Chop the celery into 1cm pieces.

Peel and finely mince the garlic.

Heat the oil in a saucepan over low-medium heat, then add the bacon, carrot, potato, celery and garlic and stir to combine.

Cook, stirring often, for 5 minutes.

Drain the kidney beans and rinse under cold water.

Add drained beans, stock and tomatoes to saucepan, partially cover with a lid and cook for 15 minutes, stirring occasionally, or until vegetables are tender.

Add pasta and simmer uncovered for another 10 minutes or until vegetables and pasta are tender.

Chop parsley sprigs and add to soup.

Season soup with black pepper and stir to combine.

Serve in warm bowls with cheesey herb bread if desired.
Equipment
Chopping board
Knife
Measuring spoons and jug
Saucepan and lid
Sieve
Grater
Optional Extras
1. For a vegetarian option leave out the bacon and use vegetable stock.
2. Substitute the kidney beans with tinned cannellini beans or tinned chickpeas.
3. Serve scattered with finely grated parmesan cheese and serve with plain crusty bready instead of making the cheesey herb bread.
Adult Assistance
Using the saucepan
Supervision of stirring the soup over the heat.
Terms and Techniques
To partially cover a saucepan with a lid means to place the lid so that is slightly askew on the saucepan and not fitting properly. This prevents the mixture from boiling too rapidly